The National Civil War Centre has celebrated its busiest year yet for school visits.
Since summer 2021, the centre's Learning Team has welcomed 3,131 students, helping them to better understand the period of history with fun foam pike drills, the chance to put King Charles I on trial, character-led town tours and more.
An increase of 400 on the previous record-breaking year, the visitors number includes special projects such as the MaxLiteracy-funded Collect Connect Create, where pupils from Newark Academy enjoyed tours of the museum's resource centre and worked with celebrated Nottingham poet Ioney Smallhorne to create a new resource, soon to be available at www.maxliteracy.org/resources.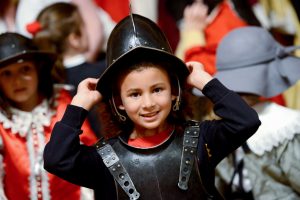 The team also took its resources into schools, as well as presenting virtual lessons to primary and secondary schools throughout the UK.
Learning and participation manager Sarah Clarke said: "Given the pandemic and visiting restrictions, we are delighted and blown away by this achievement.
"We've been welcoming more and more students year on year and improving our skill sets, sessions and resources as we do so.
"Our team is hugely multi-talented and from one day to the next might be teaching musket drills to seven-year-olds and leading an A-level object-handling session. I'm hugely proud of them and look forward to our continued growth next year."
While the team has been busier than ever with young visitors, it has also created new resources to help students learn in new and interesting ways.
Working with the Education Outreach Team at Newcastle University Library, it developed a British Civil Wars website (https://britishcivilwars.ncl.ac.uk) for Key Stage 3 students, packed with activities, quizzes and games to help them learn about the period.
More Discovery Boxes to loan to schools were also produced. These are specially-curated mini collections of objects that bring different periods of history to life as children unbox and explore them.
λTo find out more about school visits at the National Civil War Centre, go to www.nationalcivilwarcentre.com/learn or contact the team at civilwarlearning@nsdc.info.
Comments