An installation at Newark Castle will mark one year since the first coronavirus lockdown this month.
Supported by Newark and Sherwood District Council and Arts Council England's Cultural Recovery Fund, Off Mute: Local Voices From A Year Like No Other has been curated by The Acorns Project, a recently-launched initiative to bring together cultural activity across the district.
It plans to take Newark and Sherwood 'off mute' by amplifying local voices and telling residents' stories from the past 12 months.
The immersive experience in the grounds of Newark Castle will blend audio and visual elements to explore the remarkable experiences of people who've gone above and beyond for the community during the pandemic. Visitors will also be encouraged, as they explore the grounds, to think and reflect on what they've personally missed and gained during this extraordinary time.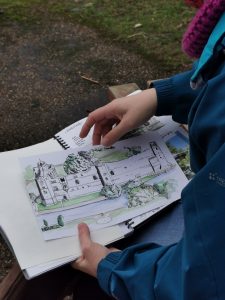 A soundscape will greet visitors at the left entrance to the castle with local voices speaking about their experiences from the last 12 months, while a large video screen will be placed on the inner castle wall featuring interviews with local people, including business owners, creatives and volunteers who've supported their communities within Newark and Sherwood.
The band stand will house giant panels that will ask visitors to reflect on four questions about their recent experiences and feature responses gathered from the community over the past several months.
Local creators have also been involved in the project, which features a specially-commissioned map of the castle grounds by Newark-based artist Christine Goldschmidt and an original piece of music by local composer David Andrew Warman, written as a response to the past year.
Coun David Lloyd, leader of Newark and Sherwood District Council, said: "This is a great way to mark a year since the first National Lockdown. So much good work has been done by people in our community over the past year and this installation will bring their stories to light as well as giving cause to reflect on how life has changed since the pandemic began. This is a chance to realise that we all have shared experiences from this past year and hopefully those experiences can bring us together now more than ever before".
Members of the public are encouraged to enjoy Off Mute in line with current government guidelines on social distancing, which can be found at www.gov.uk/coronavirus. The installation will be open in Newark Castle's grounds from Friday 19th to Monday 29th March, 9am to 7pm. To find out more, visit www.facebook.com/theacornsproject.
Comments